Hello people! So as many of my wonderful blog readers know, I already have two babies...er...I mean fur-babies! My first little fur-baby is a little boy named Widget, and the second one is a girl named Trixie. I love my puppies so much (even though they drive me nuts most of the time)! I think I have learned a lot from them about what it means to be a parent. First of all, they depend on me and Steve for everything: food, water, exercise, potty breaks, health care, love, and cuddles just like a baby would. Also, I hear a lot of women saying, "Before I was a mommy I had
never
been pooped on or puked on". Well, I certainly have, thanks to my puppies!
Anyway, Widget and Trixie used to each have their own little travel cage that they slept in (their "houses"). The cages were pretty small and each had a water bottle attached to the door so the pups could have access to water when in their house (although, the water bottles weren't very efficient). Well, they finally got an upgrade!
That's Widget on the left and Trixie on the right. They share a big cage now and it's big enough to house a whole big bowl of water for them! I'm happier knowing that they are happier now!


So now I get to brag. Two breakfasts ago, Steve made me something incredible!
OM NOMMY NOM NOM. Blueberry waffles with homemade strawberry syrup yumminess and whipped cream. *DROOL* It was amazing!
BUT here is a bad thing that happened to me today so don't be too jealous of my delicious breakfast....
I went to Whole Foods (a natural/organic food store for those that don't know...*cough, cough K.H.) and bought some Un-Petroleum Jelly (just like Vaseline, but better for you and the environment) but when I got home I noticed that the cap was broken!!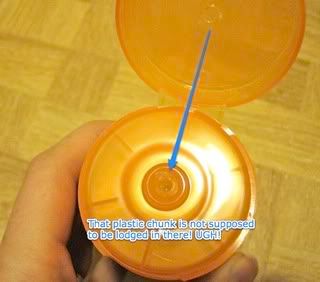 The little stopper that is supposed to be on the top of the cap broke off somehow and lodged itself into the little hole where product is supposed to come out! UGH. So I'm going to have to pry it out and super glue it back to it's rightful position!
Same thing happened to me the other day, I bought a 2-pack of toothbrushes and when I used mine for the first time, the head snapped off! GRRR....
Ok. Here is something I have to rave about. Pay close attention if you have dry skin, are a mommy-to-be, or just like awesome things. I went to the mall the other day to a store called Lush (www.lush.com), it's a bath and body store, but everything there is natural and handmade and very "hippy" (like flower child, not like any other kind of hip lol). Well I bought a Therapy Massage Bar: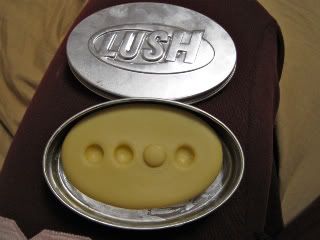 I LOVE IT. Here is what the website says about it: "...
I
t's completely organic, from the shea and cocoa butter that warm up with the heat of massage and melt into your skin (to make for a smooth, moisturizing but not slippery massage) to the lavender, sweet orange, and neroli oils meant to relax and uplift you. We recommend this one for rubbing onto pregnant bellies to soothe and moisturize...."
I
t is SO amazing. It's just like a bar of lotion... it smells amazing and it softens your skin AND I get belly rubs with it (SCORE!).
Speaking of DA BELLY....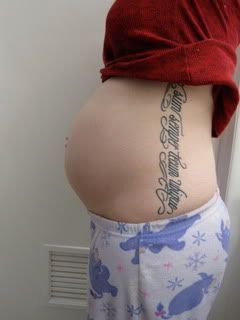 Dun, Dun, Dun, Dun!!!
btw. yes, that's a real tattoo. yes, it hurt. it's written in latin. it means, "I will always be with you, wherever you go".
I would like to give a shout out to my followers: Arika, Julie, and Watson! Yep, you follow me= you get a shout out! If you want to follow me too, sign in to or create a blogger account and somewhere on this page (somewhere, I'm so helpful) is a link/button that says "Follow this Blog" or something like that. Yeah, do that...it basically just means that you are cool. :)