I always say, the bigger your purse is, the more stuff you will haul around with you and a diaper bag is no different. Let's take a peek and see what I carry around with me everyday to help deal with all the little "emergencies" caring for an infant can create :)
I didn't stock my bag beforehand nor did I remove anything I didn't want people to see! This is a true collection of what I had in my bag the moment I decided to write this blog...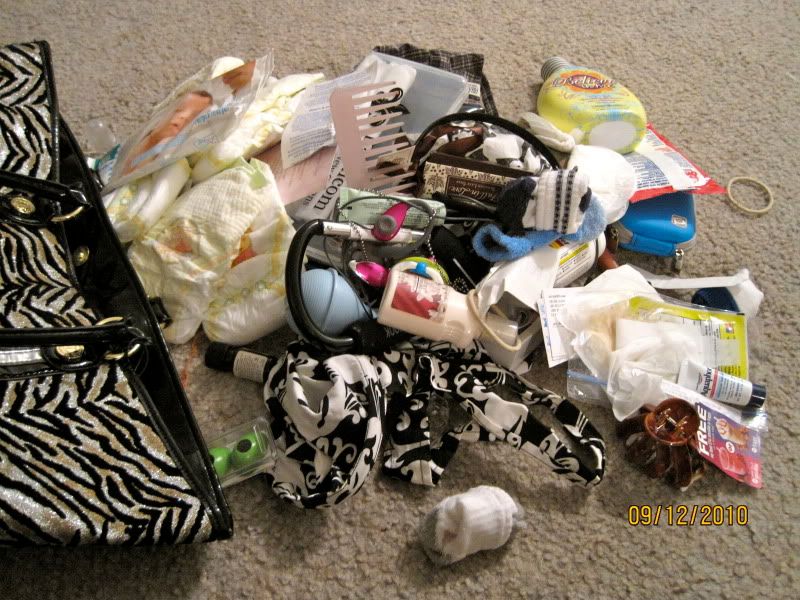 My bag threw up! Ew. Haha.


1. Antibacterial Wet Ones, because you never know when you'll have to disinfect something...
& Pampers Sensitive baby wipes
2. Disposable diapers for when we are on-the-go...someone bought these for us and they are so cute, they have Pooh Bear on them :)
3. Booger Sucker
4. Binky/Pacifier for emergencies...like when Konnor starts crying in the car, when I'm the only one there...and I just fed and changed him 5 minutes earlier...SIGH.
5. Fingernail clippers...3 pairs. Whenever I find a pair around the apartment, I just throw them in the bag!
6. Socks...also 3 pairs. I don't know why...I just keep throwing pairs in there for no reason.
7. His cute little summer hat to shield his little face from the sun
1. Headphones for my iPod, which is usually in my bag
2. My makeup bag. I don't usually carry this around, but it was still in there from when we stayed the night at the in-laws
3. My wallet...full of monies! (Yeah, I wish!)
4. Handy-Dandy Swiss Army Knife on a ball chain necklace for times when I don't have pockets
5. Random receipts and coupons...one from David's Bridal! YAY!
6. Hair stuff
1. Lotions, Tea Tree Oil, eye protection
2. Camera case (usually with the camera in it)
3. ID bracelets from when Konnor was born...I'm saving them for a scrapbook page that I'll get to "someday".
4. Breastfeeding cover thing for when we are out in public
5. Butt Paste sample and Tylenol
6. The Mommy Hook...LOVE this thing!
ANNNDDD last, but not least...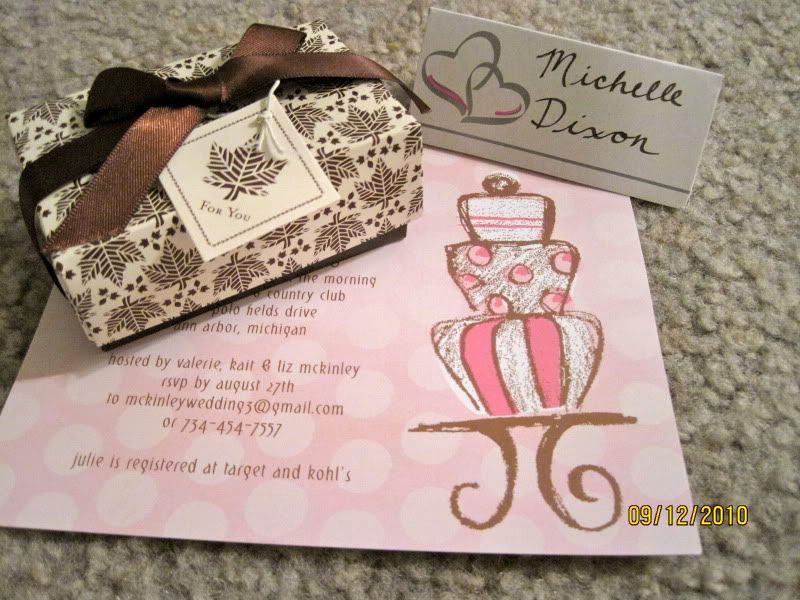 My bridal shower invite and gifts from Julie's shower...so cute!
And here's the little man that makes all that necessary...The Konninator! (Like, "The Terminator" lol)
"I am the Konninator, I am here to Konninate you!"
Chubbo Cheeekers!
He was so well behaved at the bridal shower and EVERYONE loved him and said how cute he was :)
I'm such a lucky Momma :)
xoxo,
Michelle