Finally, nine days later, here is the 2011 Christmas blog! First we will begin this Christmas story with Christmas Eve... we made a cheese, summer sausage, and crackers platter for dinner and also made this drink that I can't spell, but it's pronounced "Glue-Vine". It's made of apple and cherry juice and some spices (tasted like cinnamon and cloves) and you warm it up and add red wine to it. It was delicious!!!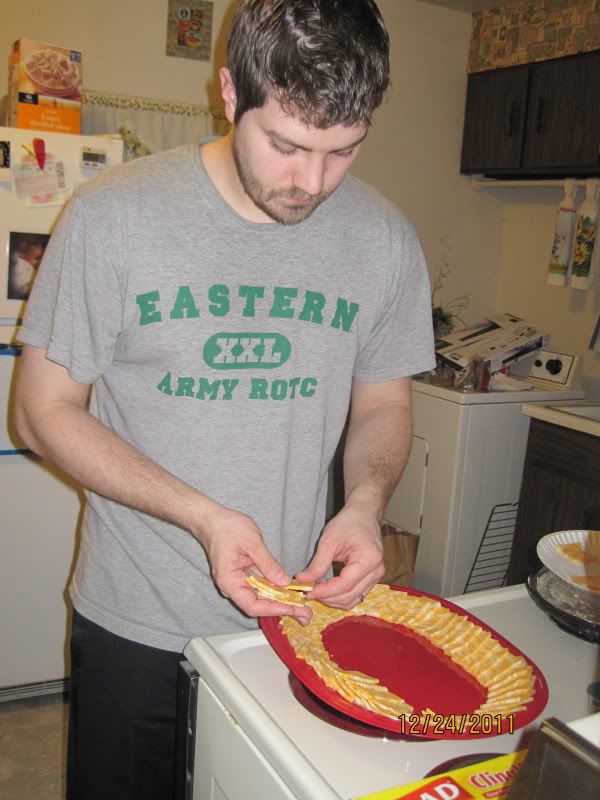 Steve carefully making the cheese and sausage plate for our traditional Christmas Eve dinner!
We ate and drank and all watched Frosty the Snowman, Frosty Returns (terrible movie btw!), and A Wonderful Life...then we put out milk and cookies for Santa...and headed to bed!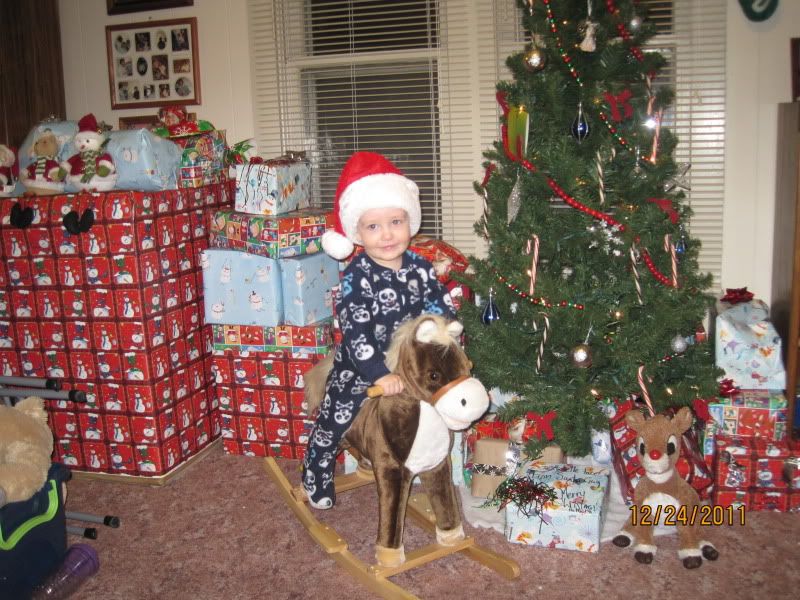 Konnor Clause rocking on his horse to pass the time until Santa comes!
We woke up Christmas morning and started with our stockings, well everyone except my mom and Jim got stockings! Then we moved on to the presents! Whoever is the "present-passer-outer" gives a gift to each person and then we open them one by one starting with the youngest person.
After we opened presents and went to church, we all met at Ciera's house to open more presents and did the big gift exchange. There was about 20 people all in one living room ripping open presents at the same time! It was crazy!
But first...
By now you are probably wondering what was all wrapped in that pretty wrapping paper... well here it is:
A beautiful elephant charm necklace from Steve...
Steve and I got a Bunn coffee maker (only the best coffee makers EVER!) from my mom and Jim too and Jesse bought me the newest Dance Dance Revolution game!
Konnor got super spoiled! Most of his new toys you can see in this picture (some of them are old toys) and he also got movies, pajamas, clothes, and more!
This whole blog is pretty much about Christmas presents, but I can't write a Christmas blog without recognizing the real "reason for the season" and the whole reason for giving gifts! I believe that we give gifts to people we love to symbolize the greatest gift that was given to us by God, his son Jesus Christ. No matter how great I think my gifts are or gifts other people got or even gifts I got for people, the greatest gift we have ever received is Jesus and that's why I believe we celebrate Christmas! This Christmas was amazing and I'm so happy I got to celebrate it with my family (even Katarra via Skype!) and my new family too!
I hope you all had a wonderful Christmas (or whichever holiday you celebrate)!
-Michelle